In 2016, our small team of peace practitioners, educators and facilitators joined together to envision and plant new seeds of peace education for youth in Ontario. Over the past five years, our team has grown to include 42 facilitators and volunteers who have empowered 6,145 youth to build the peacemaking skills they need to transform conflict and seek justice.  
To celebrate this milestone, we invited five of our favourite people, who represent our participants, our facilitation team, educators, board members and partners, to share how their involvement with TREE has rippled out into their work and relationships.
Our Participants: Quinn Andres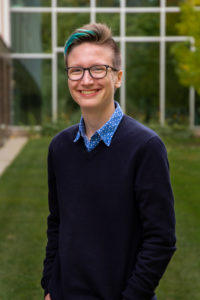 Three years ago, I participated in the Peace Innovators Scholarship and Mentoring Program facilitated by TREE, entering with only a wish and passion for social change. With the tools and support that the program offered, I was able to organize and execute a full-day workshop called "Beyond Binaries: Creating an Affirming Church", where participants had the opportunity to learn from queer leaders in the community about queer spirituality and the barriers facing LGBTQ2S+ people in traditional Christian spaces.
The enthusiastic support, learnings, and the community connections offered by the Peace Innovators program made me feel empowered to take on such an ambitious project and believe that I could make a real difference. Because of this program, I am more confident in myself and my abilities. The skills and knowledge I gained from my experience as a Peace Innovator continue to serve me well in all aspects of my life and give me hope for what I and other young people with a passion for social justice can do to make this world a peaceful and just place for all.
Quinn Andres is currently in their third year of Theatre and Performance at the University of Waterloo with a minor in Gender and Social Justice. In 2018-2019, they were a participant in The Peace Innovators Scholarship and Mentoring Program, organizing and implementing a workshop focused on queer affirmation in the church. 
Our Facilitation Team: Paige Court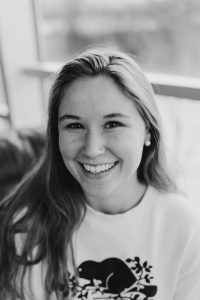 Working with TREE has impacted my life in many ways. Whether it is roommate issues, group projects, or simply understanding new coworkers, TREE's fundamental principles and lessons are relevant to everyone. One of my favourite memories from working with TREE was teaching grade 6 Social Studies Workshops. Within this workshop series, we as facilitators were able to have great conversations with students about global interconnectedness, local and global political issues, and economic and environmental issues. During one lesson students created a collage about an issue they are interested in or passionate about. It filled me with joy to walk around the room and see what students were interested in and be able to engage in conversation with them. One student made a collage about the makeup industry and how it depicts who young individuals should be. Each student was able to share with the class what their collage was about which created a form of connectedness within their classroom as students were able to see what others care about, and who had similar interests as them.
Paige Court is proud to be a past facilitator with TREE. She worked with TREE while earning her degree in Global Studies at Wilfrid Laurier University. Currently, she is working for City of Toronto's Shelter, Support and Housing Administration.
Educators: Tamara Awad Lobe
I have been lucky enough to have TREE be part of my classroom from it's very first years in the school system.  Looking back on all of the facilitators and their positive influences in my classroom I would be hard pressed to find just one example of the difference they have made.  Even through the last year and a half of online learning, every time my students saw TREE as part of the daily schedule there would be a cheer.  They were always eager to see what new ideas were presented and to interact with a new teacher.  
One memory that does stick out for me was during a lesson that involved pictures from Northern Canada.  One of the main benefits of bringing in TREE is that they are able to take the time to bring in thoughtful and relevant material.  This particular lesson was looking at images from Attiwapiskat First Nation, which showed housing, grocery bills and landscape.  Students were asked to make observations and then relate their observations to what they observed in our local community.  The immediate connections of injustice lead into a quick conversation of what we could do to change this.  This 60 minute TREE lesson led to a year of letter writing, a critical eye on the news, and constantly looking for the other side of the story that might be missing.  The power of the facilitators to draw out the observations and allow the students to realize they also have a voice and can make a change is really the strength of the TREE program.  I've seen this subtle message take hold across grades and curriculum topics each year we host the TREE program.
Tamara Awad Lobe is a graduate of the Peace and Conflict Studies program at Conrad Grebel University College.  She is currently teaching grade 5/6 in Waterloo. 
Our Board Members: Tim O'Connor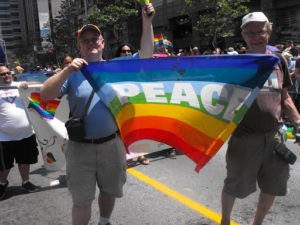 About fifteen years ago, I began celebrating peacemakers by adding the name of a person working for peace to our classroom wall each day.  I continued this for almost nine years until circumstances required me to move from this classroom.  By that time, I had more than 1500 names on my classroom wall.
Somewhere through that process, I learned of the work of TREE and Katie Gingerich.  I remember telling that story and adding her name to the classroom wall.  In subsequent years, Katie and other facilitators have helped us to promote inclusion and social justice in our school – leading classroom workshops and helping to organize an environmental retreat.  These were all great experiences.  They led me to eventually support the program as a board member and that has also been a formative experience for me.
Although I have retired, I remain very passionate about peace and social justice education.  I think that we all share a responsibility to promote these values in our own lives and in our education systems.  I look forward to seeing the many great things that TREE will bring to education conversations in the years to come.
Tim O'Connor just retired after 37 years as a classroom teacher.  During that time, Tim taught at both the elementary and secondary levels.  Tim completed his Masters of Peace and Conflict Studies at Conrad Grebel in 2018 and remains actively interested in Peace Education. He is Board member for TREE and Camp Micah.
Our Partners: Kindred Credit Union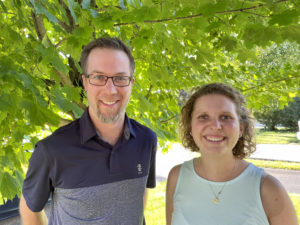 The Ripple Effect Education and Kindred Credit Union share a partnership built on innovation and collaboration. Ben recalls pitching the idea of the Peace Innovators Scholarship & Mentoring Program in 2016, sharing, "I remember seeing Katie immediately engage as a partner, thoughtfully bringing the idea to be much better than we originally conceived of it!" 
Amy first connected with TREE during her time as interim Coordinator at the Kindred Credit Union Centre for Peace Advancement and remembers "the intentionality in the way that TREE staff engaged in community. I remember hula hoops and an active button maker! TREE would use tools designed to meet young people where they were at; encouraging peacebuilding in playful and meaningful ways."
The connection between TREE and Kindred continues to deepen, from engagement in the Training Active Bystanders network right into our homes. Three of Ben's children have connected with TREE educators in two different schools. He notes, "It has been exciting to see their teachers see the value in partnering on peace education and to feel the ripple in our family."
Congratulations from your friends at Kindred on five years of peace education with youth in Ontario!
Ben Janzen and Amy Zavitz are the Values Integration team at Kindred Credit Union. They focus on mobilizing programs, partnerships and philanthropy to inspire peaceful, just and prosperous communities.
---
Interested in supporting in our peace education work with youth? 
Support us as a monthly donor or learn how you can get involved!