I took up gardening a couple of years ago in an attempt to eat healthier and circumvent the rising cost of fresh produce at the grocery store. What I gained through that experience has been a reconnection, not only with the natural environment, but with myself. The routine of watering, weeding, and harvesting the vegetables I grew, allowed me to witness the magic and beauty of our earth, and showed me that a relationship with our natural surroundings based on reciprocity and respect is one that can not only heal the earth, but ourselves as well. We often hear that "getting outside" is good for us, or that walking in nature helps our mental health, but it is possible to have a deeper connection to our natural surroundings, a mindful relationship which can bring inner peace and an awareness that extends beyond seeing the landscape behind us.
I recently took a course on peace and the environment and was challenged to form a relationship with a specific spot in nature, a spot that I would visit every week and try to get to know as I would someone who I did not share the same language with. For a half an hour a week I would sit in the same spot, listening, watching, smelling, and even tasting what was around me.
Each week a new revelation was shared with me, from the ducks that travelled down the stream even in the winter, to the different birds that lived in the trees, and the wild leeks that grew all around, I grew to know the spot in a way that was not possible had I continued to just walk past
it when I was "getting outside". Forming that relationship with "my spot" allowed me to witness the seasonal changes in the natural environment, and also offered me an opportunity to watch how it affected me internally. I became more patient, aware, and mindful of how my body and mind calmed each time I visited the spot, and even after the course ended, I have continued to visit that spot, and each time I do, I feel as though I am seeing an old friend.
There is an Ojibway word, Wisahkotewinowak, that means "the growth of new shoots from Mother Earth where a fire has come through". The Wisahkotewinowak are evidence that even a scorched landscape can be healed, an idea that I have taken literally and figuratively, and applied
it to myself and my gardening. Every patch of my backyard is an opportunity to watch seeds transform into food, even the spots where one would think nothing could grow, and when I turn that idea inward, I realize that the parts of myself that I thought were unable to grow, such as my capacities of patience, mindfulness, or perseverance, are transformed just as the seeds are.
Our natural environment is a part of us and can become more than the landscape in which we live our lives. We are connected to it just as we are connected to our friends and family, and the same way we protect and nurture those relationships, we should do the same with our relationship to the earth. There is so much more to be gained from going outside than fresh air and exercise, there is an opportunity to connect with nature and ourselves, a relationship of reciprocity that is healing for all involved, flora, fauna, and ourselves.
---
References
Photo by Lukas on Pexels
---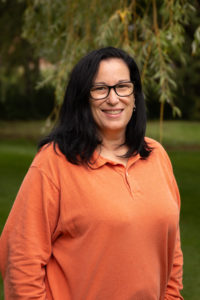 Nancy Williams is in the 4th year of her Peace and Conflicts degree, as a mature student at University of Waterloo. She is passionate about working with youth, something she discovered while working at oneROOF Youth Services in Kitchener/Waterloo as a Youth Support Worker. As a Peace and Conflict Studies student, and someone who believes peace education and peaceful conflict resolution are integral to creating inclusive, harmonious communities and relationships, Nancy is thrilled to be working for TREE and to have the opportunity to combine her dedication to peace studies and enthusiasm for working with young people.