When I was in grade four, I was in the same class as my best friend. We at lunch together, played soccer together, and we liked the same things; clothes, music, movies. We spent most of our time at school as a duo.
One day, about halfway through the school year, we began to fight. I don't remember what the fight was about, but I do remember feeling angry, hurt and stubborn. I shouted mean names and stormed off in a huff. Outside during recess, my teacher approached me and kindly asked, "Tell me what's going on with the two of you." With her help, I was able to think through the conflict, and articulate my feelings to my friend, move forward in our friendship.
Over the years I've thought about that conflict, and how my teacher went out of her way to help me work through it. Even in the midst of a busy day, she took the time to help me work through this problem. When I think about this conflict, I don't remember why we were arguing, but I do remember feeling valued and heard.
Conflict can feel inconvenient, particularly when you're not involved in it.
When we're spending time with children and youth, we're often called into conflict that is not our own. It happens when a young person approaches you to share about a situation. It happens when we hear conflicts erupting and call for a break. It happens when gossip slips out behind backs.
As adults, when we're focused on a task or consumed by busyness, it's easy to push small conflicts to the slide, with a simple, "We'll talk about it later."
But, how often have we (myself included!) forgotten to come back to the conflict? When is "later" as a busy parent or educator?
When we don't talk about it later, we're sending the message that the problem and the corresponding feelings and relationships don't matter.
In my work with TREE, I often encourage folks who are helping young people manage their conflicts to make conflict conversations a priority.
Interested in making sure that "talking about it later" happens?
Here are two questions to ask yourself.
1. How will I make time?
Create time in your day that you know you'll come back to it and stick to it. Then, when you say, "Let's talk about this later," add specific details to communicate when you plan to talk about the conflict.
For example, "Let's talk about this later, after dinner," or "Let's talk about this later, during independent study period."
Initiating this structure for conflict conversations will create space for the young people in your life to bring discuss their side of the story, their feelings about the situation and to problem-solve together.
2. How will I make it routine?
Is there a consistent time within your routine for conflict conversations to easily integrate? Maybe it's part of your classroom clean-up at the end of the school day or during silent reading time. Maybe it's on the way home together or at the dinner table. Find a time that you can stick to that makes sense within your regular routine, and add a reminder.
How do you make conflict conversations happen? We'd love to hear your thoughts below!
Stay tuned for our tips to have conflict conversations in our next pos.
---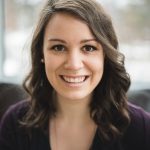 Katie Gingerich is the founder and director of TREE, and is an active participant of the Kindred Credit Union Centre for Peace Advancement. Since 2012, she has developed peace education programs for camps, community groups, and classrooms, and is passionate about giving youth the tools they need to transform conflict and seek justice.