Conflict Toolkit Cohort: An interactive cohort for youth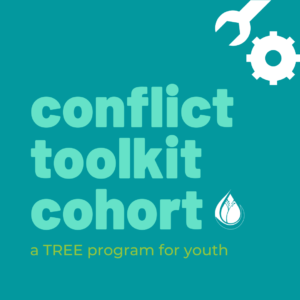 A 4-week program for youth in grades 7-9
Tuesdays – February 16, 23, March 2, 9, 2021
4:00-5:15pm EST via Zoom
By donation
Conflict happens! In this virtual after school program, participants will practice tools to build their conflict resolution toolkit to navigate conflict with family, friends, and in their community. Together, we'll explore these skills through interactive games and discussion within a small group of peacemakers.
Participants will:
Build language for creative problem-solving
Practice tools for courageous conversations
Create their own Conflict Map to use in future conflict situations
Program Outline
Week 1 – Our Conflict Styles: Understanding ourselves is an important first step to engage in healthy conflict. We will explore different approaches to conflict, and examine our own conflict approach.
Week 2 – Communication Skills: Sometimes small shifts in our language and posture can make a big difference in tough conversations. We will practice engaged listening and curious questioning skills, which can be used to de-escalate conflict situations.
Week 3 – Understanding Others: What happens when we have different perspectives? We will explore win-win approaches to conflict through our Iceberg Model.
Week 4 – Courageous Conversations: Why do some conflict conversations feel more challenging than others? We will explore power dynamics and managing emotions in tough conversations. We'll wrap up by using the skills we've learned to create our own Conflict Maps! 

Registration for this program is now closed. 

Interested in future workshops?