I love conflict.*
*I love what healthy conflict can teach us about ourselves and the people around us, but even with years of training and experience, I still get anxious during tough conversations.
So naturally, it comes up often in conversation with my friends and family. When they ask me, "What should I do in this situation?" my answer is always, "It depends." There are so many variables, and different tools can be helpful in some situations but not others. Building our conflict toolkit is all about practicing different approaches for different scenarios, settings and audiences. Here is a limited list of different books to build a strong and assorted set of conflict tools.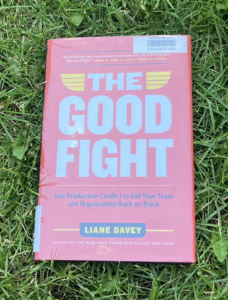 The Good Fight: Use Productive Conflict to get your team back on track – Liane Davey
What you'll find: Davey argues for a third way for conflict – not avoiding by settling or taking on more, but to

engage in healthy conflict.

This book offers stories, conversation tools, practical tips for different workplace situations.
Bonus: A chapter for

conflict at home

, with your family members of all ages.
Best for:

workplace

conflicts
Notable Quote:

 

"Your refusal to be a bystander, both to minor scuffles and major injustices, will

make your organization better

." (Davey, 2019, p. 51)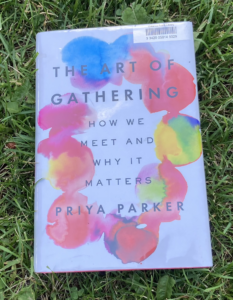 The Art of Gathering: How we meet and why it matters – Priya Parker (2018)
What you'll find: Specific ideas for the size of a group, or venue, but also thoughtful ways to create brave, authentic spaces. Parker identifies how we can understand

why we're gathering

and create spaces for everyone to find

belonging

.
Best for: bringing people together, hosting

hard conversations

, organizing
Notable Quote:

 

"

Specificity

is a crucial ingredient. The more focused and particular a gathering is, the more narrowly it frames itself and

the more passion it arouses

." (Parker, 2018, p. 17)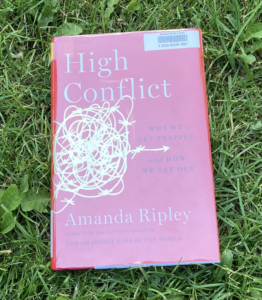 High Conflict: Why we get trapped and how we get out – Amanda Ripley (2021)
What you'll find:

Exploring high conflict

(us/them, polarized, all consuming conflict), and why it's important to complicate the narrative and get curious. In this book, Ripley takes a narrative approach through real-life situations in England, Colombia, and the US. 
Best for: If you hear conflict strategies, and always think, "Okay, but this

conflict is too intense

for that strategy to work."
Bonus: Appendices with

strategies to recognize and prevent

high conflict in the world and in ourselves.
Notable Quote:

 

"Afterward, the people still disagreed. And this is important.

No one changes their mind about a deeply held belief based on a twenty minute conversation

with a stranger. That's not how the human brain works. But over time, after more conversations like this with more people, particularly people they trust, they might change their minds.

Like sunshine and water

, it doesn't guarantee growth, but you can't get meaningful, internal change without it." (Ripley, 2021, p. 244)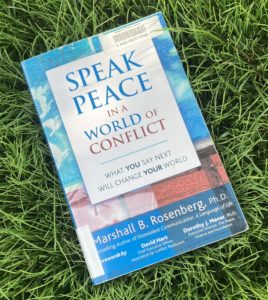 Speak Peace in A World of Conflict: What you say next will change your world – Marshall B. Rosenberg (2005)
What you'll find: A guide to

nonviolent communication

, and applying nonviolent communication practices to school, work, and social justice organizing communities.
Best for: A tool that can be used to

cultivate curiosity

in every area of our lives, not just in conflict.
Notable Quote:

 

"

Speaking peace is communicating without violence

, the practical outcome of applying the principles of Nonviolent Communication. It is a giving and receiving of messages that center on two very important questions:

What's alive in us?

And

What can we do to make life more wonderful?"

(Rosenberg, 2005, p. 9)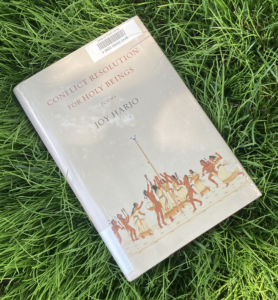 Conflict Resolution for Holy Beings – Joy Harjo (2015)
What you'll find: Reflections on

generational, community responses to conflict

, and highlights where interpersonal conflicts stem from within us. This is a

book of poems

that highlight the

joy, grief, vulnerability, and strength of the human spirit

, and the interconnections between each other and our environment.
Best for: exploring

transformational and expansive

conflict and reconciliation 
Notable Quote:

 
"I keep thinking of my boyfriend coming upon some
children playing with a fox, just a few blocks down the
street. He stopped and got out of the car. It's not every
day you see a fox frolicking with children. He asked the 
children, "Is this your fox?" "No," they told him, "he
just came up and started playing with us." (Harjo, 2015, p. 132)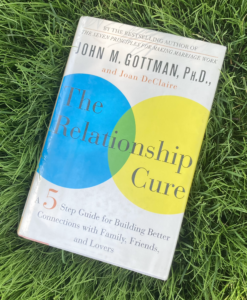 The Relationship Cure: A 5 step guide for building better connections with family, friends and lovers – John M. Gottman and Joan DeClaire (2002)
What you'll find:

5 steps to build emotional connections

and emotional awareness within ourselves and how that impacts our relationships with our

friends, families, partners, children

, with exercises to begin to

cultivate this awareness.

Best for:

building self-awareness, and bringing that awareness into our relationships.

Notable Quote:

 

"

If both parties are willing

to hang in there, pay attention, and change direction when they make mistakes, chances are they can

improve the relationship

. Having to apologize, make adjustments,  or 'patch things up' is not necessarily the sign of a bad fit. It's a sign that people value one another and are willing to work through the rough spots to stick together. It's by

weathering conflicts that marriages, families, friendships, and work teams grow strong.

" (Gottman & DeClaire, 2002, p. 26)  
Want to hear more about my take on these books? Check out part one and part two of our Instagram book series!
There are so many great conflict books out there – which ones would you add to this list? 
Cover Photo by Burst from Pexels
---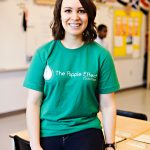 Katie Gingerich is the founder and director of TREE, and is an active participant of the Kindred Credit Union Centre for Peace Advancement. Since 2012, she has developed peace education programs for camps, community groups, and classrooms, and is passionate about giving youth the tools they need to transform conflict and seek justice.